ING Home Loan
---
ING Home Loan

ING Home Loan

Don't wait. Grab this incredible deal today! Take action now! Please contact us here!

Malaysia Raises Interest Rate a Third Time This Year as Growth Accelerates
Bloomberg: Malaysia's central bank raised interest rates for the third time this year, judging the economy is strong enough to withstand higher borrowing costs even as threats to the global rebound increase. The ringgit rose. Bank Negara Malaysia increased its benchmark overnight policy rate to 2.75% from 2.5%, it said in a statement in Kuala Lumpur today, a decision that was predicted by half of the 20 economists surveyed by Bloomberg News. Click here for more financial news.

Economists expect rate hike next week
PETALING JAYA: Although Malaysia's year-on-year (yoy) export growth of 21.9% to RM52.3bil in May fell below market expectations, economists are still positive on an interest rate increase next week. Click here for more financial news.

OPR up 25bps to 2.50%: KUALA LUMPUR: Bank Negara Malaysia decided to raise the Overnight Policy Rate (OPR) by 25 basis points to 2.50% at the Monetary Policy Committee (MPC) meeting on Thursday, May 13.
The central bank said the floor and ceiling rates of the corridor for the OPR are correspondingly raised to 2.25% and 2.75% respectively.. Click here for more financial news.

Enjoy easier financial solutions with an ING Home Loan, fixed at 4.85% p.a. for life. Own the dream home you've always wanted with our hassle-free fixed rate home loan. You get up to 90% financing at an interest rate of only 4.85% per annum. Come take advantage of this historical low rate from ING Home Loan.
ING Home Loan
ING Home Loan Newsletter
Subscribe to our newsletter to receive notification for the latest promotion!
ING Home Loan is the best home loan in Malaysia
---
ING Home Loan = Fixed Rate For Life!
PEACE OF MIND!
No BLR, fixed instalments,
no risks, no worries.

NO PENALTY!
On early settlement.

PAY ANY TIME!
No notice required.
Extra payments accepted.

DAILY REST!
Interest savings.

"You will know how much to pay"
Home is where the heart is. In this fact paced day and age, we all want to have a home and haven for our family. A place of love, comfort and security for the family. However, life is never a series of predictable events. While some problems and setbacks are easily overcome, many others may not be. Oftentimes, external circumstances will disrupt out routine lifestyle and comfort zones. We may be forced to give up part of our lifestyle that we treasured as well as our comforts in life. ING Home Loan ING Home Loan
"Helping you secure your home"
With our fixed rate home loan, you will always know exactly what your home loan repayments are. You will even increase your household savings at a time when others may be digging in their pockets to cover their revised home loan repayments. ING Home Loan ING Home Loan
"How does the ING Home Loan help you own a home with total peace of mind?"
If you currently have a home loan with a financial institute that is pegged to the Base Lending Rate (BLR), then you will know that the rate has increased and effectively your home loan repayments have also increased for the year 2006 and beyond. With ING Home Loan, you are guaranteed that the monthly instalments are fixed and you will own your house at the end of the tenure. ING Home Loan
ING Home Loan
---
Why ING Home Loan?
Why ING Home Loan? At ING, we GUARANTEE you a rate that is FIXED for the entire tenure of the loan. You do not have to worry about the fluctuations in the BLR. When you subscribed to an ING Home Loan, we fix your installment and the tenure of the loan. By paying your installment monthly, you are GUARANTEED to own your home at the end of the tenure. ING Home Loan
Over the last 26 years, BLR has gone up to the highest touching 12% p.a. and the lowest at 5.55% p.a. BLR currently stands at 6.60% p.a. ING Home Loan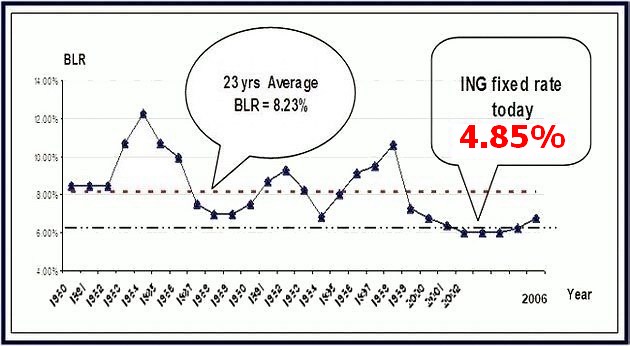 From the graph above, 23 years BLR average is at 8.23%. Our offered interest rate is at 4.85% can save you thousands of ringgit throughout your loan tenure.

ING Home Loan

Interest Rate
(Correct at press time and subject to change without notice)





ING Home Loan

For Completed Properties & Selected Under Construction Projects
4.85% p.a. fixed for the whole tenure (Non-Zero Entry Cost Package)
5.25% p.a. fixed for the whole tenure (Zero Entry Cost Package)
Margin of Financing: Up to 90%


---

Zero Entry Cost Package - ING absorbs the following fees:

1. Legal fees for loan documentation
2. Stamp duty for loan documentation
3. Disbursement for loan documentation
4. Discharge of charge (for Refinancing cases)
5. Valuation report fee




Margin of Financing


ING Home Loan

For Completed Properties

Landed & Non-landed – Up to 90%

For Under Construction Properties

Landed – Up to 90%
Non-Landed – Up to 80%
Foreigners – Up to 70%

Loan Financed

Minimum – RM100,000
Maximum – RM5,000,000

Who Can Apply?

ING Home Loan

Malaysian / Malaysian PR
Foreigners with working permit
Aged 21 & above

Loan Tenure

Minimum – 5 years
Maximum - 30 years or Age 65, whichever comes first

Properties Financed

ING Home Loan

Under Construction – Klang Valley

Completed – Klang Valley, Penang, Ipoh, Seremban, Melaka, Johor Bahru, Kuantan, Kota Kinabalu and Kuching

Note: Leasehold properties must have 21 years of unexpired lease at the end of the loan. Malay Reserve & Native Land is strictly prohibited

Prepayment

Prepayment is allowed at any time and no notice required. You can pay any amount as often as you like

Exit Penalty

ING Home Loan

Applicable for refinancing only within the lock in period of 5 years from the date of first drawdown of the loan

Insurance

ING Home Loan

All loans must be adequately protected by ING Life policy or ING MRTA policy during the tenure of the loan

Fire Insurance is also compulsory for landed property
ING Home Loan Loan